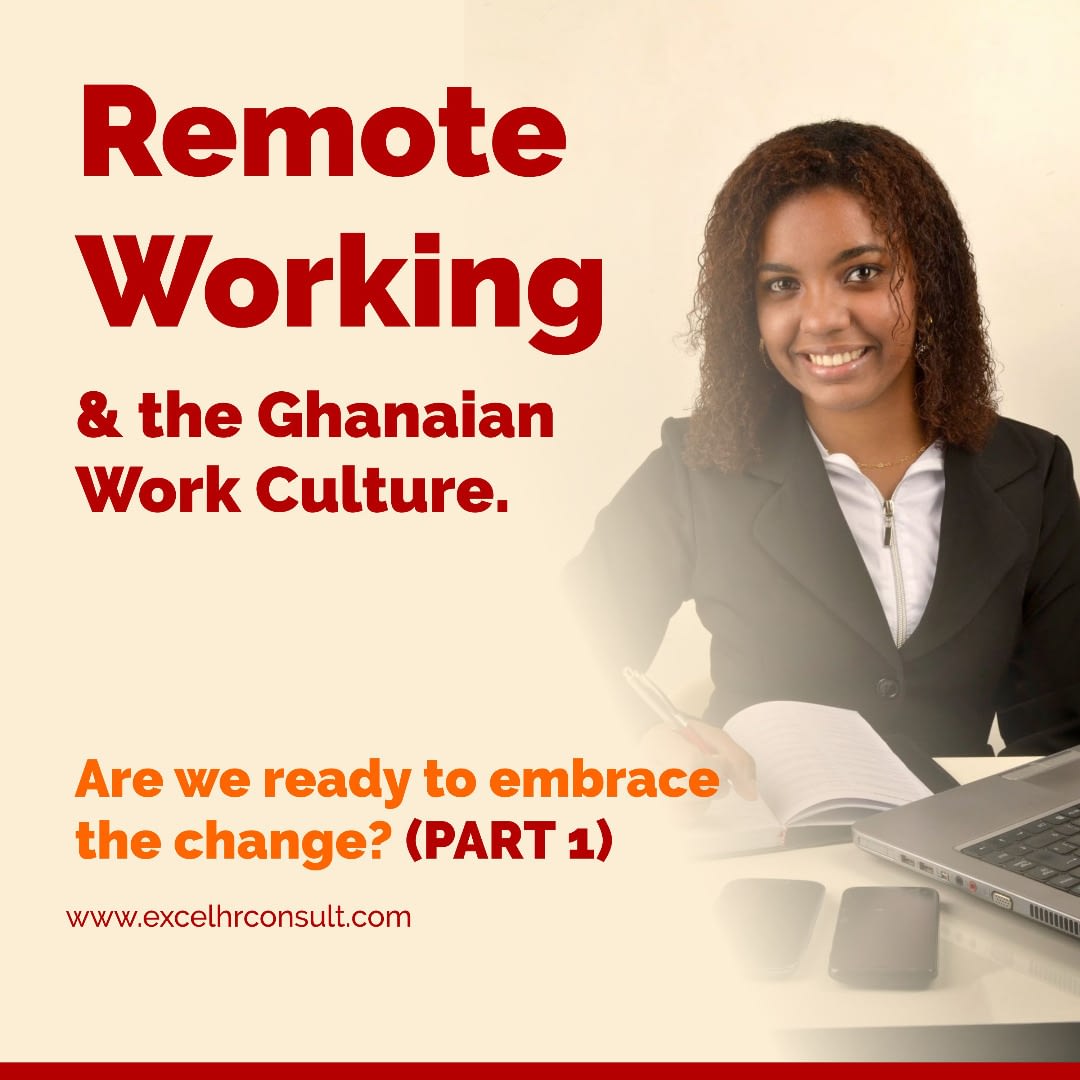 The wave of change that has blown globally over the past few months has necessitated stay at home and social distancing protocols. With the health of the populace being paramount, nations called for lockdowns and permitted only essential service providers to operate. During the lockdown, non-essential service providers were compelled to work from home. This was a response for business survival and continuity. In Ghana, even though the partial lockdown was lifted weeks ago, businesses cannot return to normal. Some changes have come to stay with us. Examples of these are flexible and remote working practices.
Many organizations have adapted to remote working as a response to the wave of change ushered in by covid-19. Remote working has already been adopted by organizations in other parts of the world; and has been experimented for some years now. However, in Ghana, we are used to commuting to work, working from traditional work environments and under direct supervision. The greatest force to reckon with in remote working is the potential challenges that may arise because of the Ghanaian work culture.
Remote working thrives on what I have termed The BCT Principle; Behavior, Communication and Technology.
In this write up, I will juxtapose the Behavioral Principle of Remote Working with the Ghanaian Work Behaviours. The insights will reveal to us our readiness to embrace the change and the steps to take to bridge the gap.
The traffic situation in Ghana forces us to be early risers. It is not uncommon that we mostly leave the house early for work in order to avoid the morning traffic. If we have kids, then we prepare them for school. Our office environment is quite formal. The high temperatures do not deter us from wearing our full business suits, with ties, cufflinks and formal pair of shoes. In our offices, we are expected to dress to depict a professional image. When we get to the office before work starts, we will usually enjoy breakfast; hausa koko, beverage, waakye or kenkey and fish with our colleagues, and have an early morning chat before work actually starts.
We start work by 8am or 8:30am, usually under the direct supervision. We tend to work harder when we know that an influential member of the organization is watching. The Ghanaian work culture is very formal, the hierarchical administrative structure of the office environment is respected, management officials and their titles are acknowledged and used in all communications. There is a cultural importance of respect for authority.
Lunch break is a time to take a walk, get some food and chat with colleagues. Very often, employees will exceed the time allocated for lunch break. As a people, we value the social interaction aspect of our work. We love to share our experiences, talk about our families and children with our colleagues and discuss various issues of interest such as soccer, politics, economy, religion, etc.
Closing times are beautiful as we look forward to driving or being driven home, seeing our family, sharing the experience of the day, helping our kids with their homework, watching television enjoying dinner and getting ourselves ready for work on the next day.
Remote working depicts that you transit from your bed to your computer, instead of getting dressed up and commuting to a traditional office environment. This requires a shift in mindset to get yourself fully ready for the day and assume a formal work posture. The beauty of this is that we skip the stress of the traffic situation. We would however have to enjoy our breakfast without chit chatting with colleagues. We determine when our work starts, unless we have scheduled morning meetings.
To get us into the right frame of mind to work, we would still need to dress for success, though not the formal clothes we may be used to. Beyond psychologically getting us into the right mindset for work, dressing for success will make us ready to handle any video call with a client or team mate.
Working remotely means there is no one looking over our shoulder to get work done. We are no longer in the presence of our bosses whose presence may influence us to be our best. We are used to working from the office, and we are more productive because of the peer pressure and communal obligation to get work done. We now have to demonstrate our commitment to work by being self-responsible, accountable and be determined to achieve results.
Working from home is awesome until kids begin to demand for your attention while you are in the middle of an online meeting or your neighbor who intends to have fun starts playing loud music. This means we would have to communicate expectations with anyone who will be home with us so they respect our space during work hours. We have to learn to manage these distractions while enjoying the benefit of being close to our family and neighbors.
Most times being home means taking care of family, cooking, doing house chores and welcoming guests. It is so easy to get distracted by the many things that have to be done around the house. However, beating these distractions could be as simple as shutting the door, having a proper office space, a prioritized schedule and in some cases, noise cancelling headphones.
It is important to determine in advance when your workday will end. When working from the office, you consciously pack your stuff and leave. In remote working, you may have to set an alarm to remind yourself that your workday is coming to an end. You don't have to stop at exactly that time, but knowing the work day is technically over can help you start the process of saving your work and calling it quits for the day.
We live in a culture that embraces family and social relationships. It is very easy to let your work life bleed into your personal and family life when you work remotely. Maintaining a sound boundary is important for both halves of the equation.
In the Part 2 of this Article, I will analyze the second of the "BCT principle" of Remote working i.e. Communication within the context of the Ghanaian culture of Work Communication.
Excel HR Consult specializes in offering Human Resource Solutions to organizations.
Contact us for your Recruitment, Training, Compensation Management, HR Outsourcing and HR Advisory Needs.
Follow Excel HR on all social media handles and get useful nuggets on how organizations and employees can be effective, productive and exceptional.
Do you need expert advice on Remote Working and Flexible Working Procedures, contact Excel HR Consult on 055 9 967 750 or by mail at info@excelhrconsult.com
The writer, Grace Asiedua Osafo, is the Lead HR Consultant for Excel HR Consult.