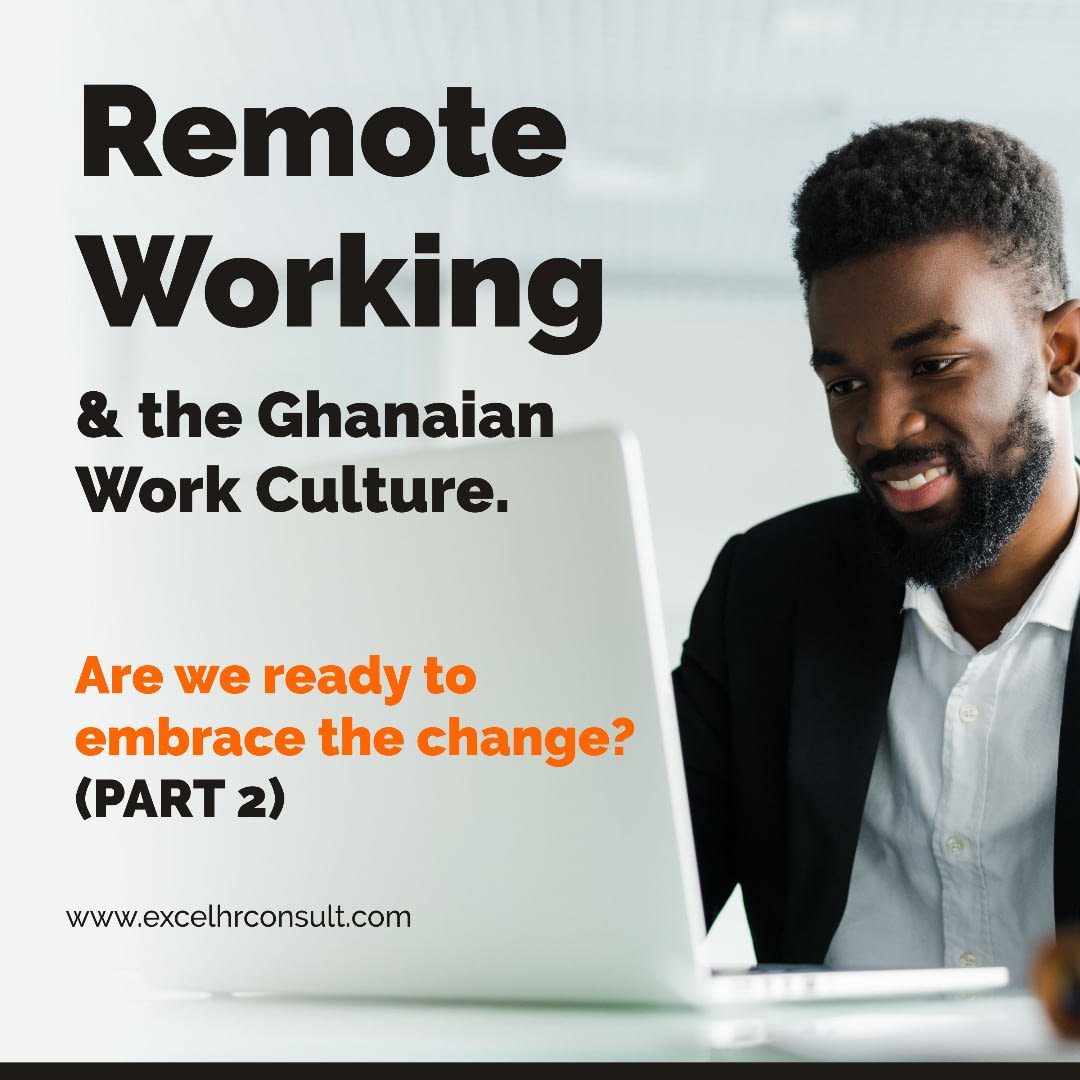 Many organizations have adapted to remote working as a response to the wave of change ushered in by covid-19. Remote working has already been adopted by organizations in other parts of the world; and has been experimented for some years now. However, in Ghana, we are used to receiving direct instructions from our superiors, exercising little to no innovation and straight jacketed with procedure. The greatest force to reckon with in remote working is the potential challenges that may arise because of the Ghanaian work culture.
Remote working thrives on what I have termed The BCT Principle; Behavior, Communication and Technology.
In last week's article, I highlighted the Behavioral Principle of Remote Working with the Ghanaian Work Behaviours. The insights revealed to us our readiness to embrace the change and the steps to take to bridge the gap.
This week, I will analyze the second of the "BCT principle" of Remote working i.e. Communication within the context of the Ghanaian culture of Work Communication.
Communication is the most important aspect of our lives because it is the foundation for sharing information, exchanging ideas and co-operation which every society needs to grow and develop.
As Ghanaians, we have an indirect way of communicating. To show respect to authority, we try to convey our ideas or messages in a manner that does not offend. We hardly say express our sincere thoughts, and as a people we expect our listeners to decode what we really mean. We try to avoid confrontations, and may be silent or give certain responses just because we want peace. That is the reason we tend to use proverbs, wise sayings, and analogies in our communication.
In most Ghanaian workplaces, supervisors and managers are greatly respected due to the cultural importance of respect for authority. By default, there exists a formal relationship between bosses and subordinates. The formal relationship established makes it challenging for open, frank and sincere conversations. Communication in the Ghanaian workplace is characterized by a parent to child approach. In a society where bosses are referred to as Aunties and Uncles, we form a paternalistic and maternalistic work environment. Superiors communicate using either their nurturing or critical parent channel while subordinates respond with their child channels. Any attempt to communicate using the adult to adult channel may be seen as too straight and disrespectful. However, the adult ego state of our personality is what enables us to engage in productive conversations to identify and solve problems.
Communication is the king of remote working. Remote working thrives on open communication for efficient collaboration and achievement of results. For remote workers, clear communication guidelines are absolutely crucial for success. For employees who are no longer few desks away from one another, it is important to provide clear instructions and guidelines on the work processes, deadlines and how productivity will be measured. Communication does not only take a conveyor approach. Remote working calls for team effort, as employees are encouraged to communicate proactively and share ideas for business success. Working outside the traditional office setting means communication has to take an entirely adult to adult approach which examines work problems, emphasizes facts and objectivity, presents and assembles facts, identifies, evaluates and discusses alternative solutions to problems and stresses a rational and unbiased approach to work related issues.
Transitioning to remote working means a change in the way we communicate at work. As Ghanaians, we may have to unlearn our traditional ways of indirect communication and be more open to diverse opinions, direct, collaborative yet respectful.
Excel HR Consult specializes in offering Human Resource Solutions to organizations.
Contact us for your Recruitment, Training, Compensation Management, HR Outsourcing and HR Advisory Needs.
Follow Excel HR on all social media handles and get useful nuggets on how organizations and employees can be effective, productive and exceptional.
Do you need expert advice on Remote Working and Flexible Working Procedures, contact Excel HR Consult on 055 9 967 750 or by mail at info@excelhrconsult.com
The writer, Grace Asiedua Osafo, is the Lead HR Consultant for Excel HR Consult.